Give
The Tithe: It is no secret that all that we have has been provided to us by God. The scriptures teach that God requires us to honor Him with a tenth of everything that prospers us, by returning it to the House of God. The tenth that we return is called the Tithe. In the Biblical days, the tithe was usually returned to God in the form of crops or livestock. Today, the tithe is most often returned in the form of the money we earn.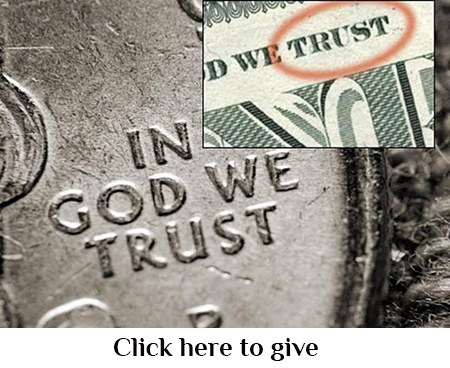 Tithing is an Act of Worship
For those who may be new to this way of worship, your tithe consists of 10% of your gross income. Malachi 3:10 reads, "Bring the entire tithe into the storehouse…" Worship is showing adoration, respect, reverence and devotion to God. Whenever we obey God by tithing, we are showing Him that we adore and respect Him, and that we take the time to reverence Him by devoting the first of our increase to Him in obedience. In response to our acts of Worship, He blesses us abundantly. He actually tells us we can test Him and see if He will not open for us the windows of Heaven and pour out for us blessings until there is no room for it all. (Malachi 3:10)
The Offering
According to Malachi 3:8, we are also instructed to support the House of God with offerings. Take note that the Bible specifies "tithes" AND "offerings." The Tithe is not an offering, and an Offering is not the tithe. Any contribution that is less than 10% of your gross income is considered an Offering. Offerings are considered free will, while the Tithe is considered a commandment from God.
Our Giving Confession
I am a Tither, and I am a Giver. I therefore expect to receive financial abundance and financial provision according to Malachi 3:10. In love and obedience to the Word of God, I give a tenth (tithe) of all my increase to the Lord. I also give a free-will offering of the 90% as an expression of my love for God according to 2 Corinthians 9:7-8. In Jesus' name, I am empowered to prosper! Amen!
OTHER WAYS TO GIVE
Text "GIVE" to (785) 222-4557
U. S. Postal Mail
Living Word International Ministries, 1704
St. Mary's Road, Junction City KS
Onsite
Tuesday – Thursday 9:00 a.m. to 5:00 p.m. and Friday 9:00 a.m. to 2:00 p.m.