Executive Pastors
Executive Pastors Clarence R. Williams III and Nicole L. Williams




Living Word International Ministries, Junction City, Kansas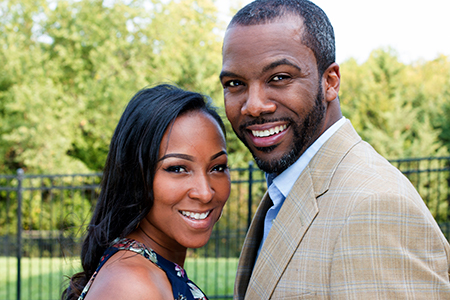 Executive Pastors Clarence R. Williams III and Nicole L. Williams both serve on staff at Living Word International Ministries. As Executive Pastor, he manages daily operations of the ministry while she serves as both Finance Administrator and Minister of Music. Married for 13 years, this duo has been blessed to raise 5 beautiful children ranging from ages 2-12 years: Leah, Gregory, Clarence IV, Isabella, and Jonathan. They have a heart to support their father in ministry as well as serve the people GOD has given them unto.
Serving as a team is very important to Pastor C. and Pastor Nikk. Their hearts knitted together as one has allowed them the opportunity to serve together in many capacities within the ministry. Their favorite scripture comes from John 14:21, "He who has My commandments and keeps them, it is he who loves Me. And he who loves Me will be loved by My Father, and I will love him and manifest Myself to him."
The Williams' love, commitment, and support of each other and the call God has placed on their lives (individually and as a family) has prepared them for this time and season in life. They enjoy giving back to the Kingdom and serving God's people with transparency of heart and commitment to their first love – Jesus, the Christ.