Text to Give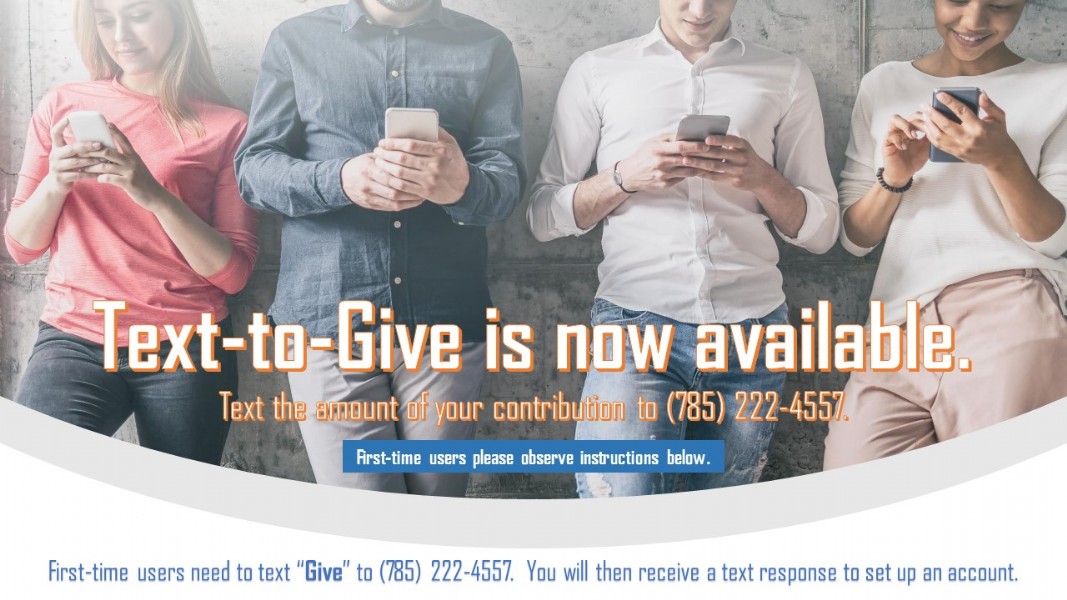 Please follow the instructions below to ensure that your giving accounts are linked.
If you already have a SimpleGive account, then first log into your account and ensure that you have your mobile number registered in your account. If it was not, then when you add it you will receive a verification code that you will need to enter. Once that is complete you will be able to follow the steps below to complete the process.
Text "Give" to 785-222-4557
After you send the text it may ask you to log in with a sign in method to confirm. After that confirmation all additional text giving will go directly through your SimpleGive account with no further action required.
At this point you can simply text the amount to the number above and specify the area to which you want to give: for example, to give $10 dollars for offering you would text "10 Offering" to 785-222-4557 or to give $100 in tithes text "100 Tithes" to the same number. Below is the list of Giving Areas to choose from:
Ablaze – Youth Ministry Broadcasting
CR Williams Ministry Men's Ministry
Missions Offering
Operation Building Strong Operation Jesus Loves
Pastoral Offering Special Seed Offering
Tithes Women of the Word
If you do not have a SimpleGive account, then Text "Give" to 785-222-4557 and follow the instructions provided. This will allow you to establish an account and start giving.
(Note: If you do not desire to establish an account you can still give but it may not be reflected on your annual giving statement.)